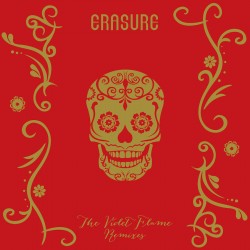 The band have announced the release of a limited edition red coloured 12" vinyl EP entitled The Violet Flame Remixes, which will be released on the 18th April. The EP is exclusive to Record Store Day (the annual celebration of independent record shops), is limited to just 700 copies and includes a total of six remixes, four of which are previously unreleased. Those who buy the EP will also receive a code that will allow them to download all the tracks.
The specifics of how to purchase this EP have yet to be released but don't expect to be able to buy online - Record Store Day is all about going to your nearest participating shop. The EP will be available in the USA and Europe, although where best to shop for this released has yet to be confirmed.
You wait years for an Erasure vinyl and then two come along at once - although I suspect for many getting your hands on a copy of The Violet Flame Remixes is going to be very tricky indeed!
Tracklisting
Be The One - Paul Humphreys Remix
Under the Wave - The Car Crash Set Remix
Smoke & Mirrors - Factory Floor Remix
Elevation - Jack Antonoff Remix
Sacred - Phil Marriott & Rich B Remix Edit
Paradise - Superhumanoids Remix