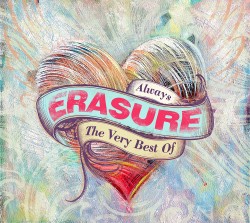 The forthcoming compilation album, Always – The Very Best Of Erasure is set for release on 30th October 2015 and is available as a single CD and triple CD, as well as to download. Full tracklisting can be seen below:
CD 1
Who Needs Love (Like That)
Oh L'amour
Sometimes
Victim Of Love
The Circus
Ship Of Fools
Chains Of Love
A Little Respect
Stop!
Drama!
Blue Savannah
Chorus
Love To Hate You
Take A Chance On Me
Always
Fingers & Thumbs (Cold Summer's Day)
Breathe
Be With You
Elevation
Sometimes – 2015 Mix
CD 2
Who Needs Love (Like That) – Mexican Mix
Oh L'amour – PWL Funky Sisters Say 'Ooh La La'
The Circus – Eternal Eraser Mix
A Little Respect – Big Train Remix
Stop! – Vince Clarke Sync 82 Remix
Blue Savannah – Der Deutsche Mix II
Chorus – Vegan Mix
Love To Hate You – LFO Modulated Filter Mix
Always – Microbots Inside Your Brain Mix
Fingers & Thumbs (Cold Summer's Day) – Tin Tin Out Remix
Breathe – GRN Remix
Elevation – BT Remix
CD 3
Victim Of Love – Vixen Vitesse Remix
Chains Of Love – Vince Clarke Remix
Drama! – Krucial Remix
You Surround Me – Mark Saunders Remix
Star – Interstellar Mix
Am I Right? – The Grid Remix
Run To The Sun – Beatmasters' Galactic Remix
In My Arms – BBE Remix
Freedom – Mark Picchiotti Strumapella Remix
Be With You – Starshapes Remix
Sometimes – Erasure & Flood Mix
This will be preceded by the Sometimes 2015 single, which will be available on CD and to download from 23rd October. Details below:
Sometimes – 2015 Mix
Sometimes – Love To Infinity Club Mix
Sometimes – Original 12" Mix
Sometimes – Danny Rampling Mix
Sometimes – John ""00" Fleming's Full Vocal Club Mix
Sometimes – Love To Infinity Ecstasy Dub
Sexuality – Private Remix
Senseless – Remix
So, what do people make of the tracklistings? Happy with these releases, or were you hoping for more? Leave your comments below.