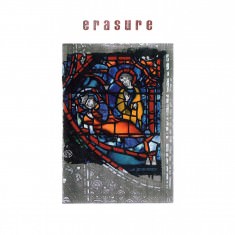 Along with the recently greatest hits compilation Always – The Very Best Of Erasure and a forthcoming anthology box set, the band are set to re-issue album on vinyl to mark 30 years of Erasure. February 2016 sees the release of the band's first three albums, Wonderland, The Circus and The Innocents, on 180g vinyl and these are available to pre-order now via a dedicated microsite.
It looks like this is just the beginning of the vinyl re-issues with the hope that every album might get the same treatment. For the time being, it's just the first three albums - and you can buy all three albums as a bundle with a 12" Wonderland sleeve print from Pledge Music website.
UPDATE: Wild!, Chorus, I Say I Say I Say, Erasure, Cowboy, Loveboat and Other People's Songs re-issues have also been officially confirmed. Also, for the very first time, Nightbird, Union Street and Light At The End Of The World will be released on vinyl.