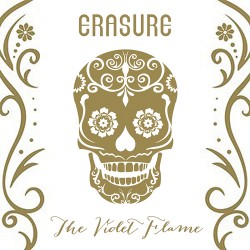 It's been over a decade since an Erasure album was released on vinyl, with Other's People's Songs being the last LP produced back in 2003. This could change however with a proposed double vinyl edition of The Violet Flame now available to pre-order on the PledgeMusic website.
The release will be a gatefold two-disc edition featuring The Violet Flame on one violet coloured-vinyl disc, and six remixes on a second white coloured-vinyl disc. The white sleeve design is pictured and the tracklisting is confirmed as the following:
Disc 1
A1. Dead Of Night
A2. Elevation
A3. Reason
A4. Promises
A5. Be The One
B1. Sacred
B2. Under The Wave
B3. Smoke and Mirrors
B4. Paradise
B5. Stayed A Little Late Tonight
Disc 2
C1. Elevation – Extended Mix
C2. Elevation – BT Remix
C3. Elevation – Cutmore Remix
D1. Reason – Extended Mix
D2. Reason – Parralox Remix
D3. Reason – Carter Tutti Remix
In order for this format to be pressed though, at least 500 pre-orders are required. So if you want to add a new vinyl album to your collection, head on over to the PledgeMusic website now and place an order (priced at £25).
UPDATE: It took 24 hours for the 500 pre-orders to be met! The vinyl will now be released!
The three remixes on disc two would imply that Reason will be the second single from The Violet Flame, although the band did seem to state that Sacred would be the next single in a recent interview. Expect single number two to released in November, with single number three coming early in 2015.