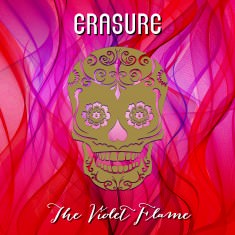 The Mute / PledgeMusic partnership for the forthcoming The Violet Flame album saw the introduction of Playback Sessions, where fans could go to Studio Mute in west London to listen to the album several weeks before its release. Naturally this was something I very much wanted to do, so was present on Day One of the sessions to hear the album in full and you can read my thoughts on each track below.
SPOILER ALERT! If you are going to a Playback Session and don't want to know what to expect or you're the kind of person who likes to listen to an album for the first time without any pre-conceptions, you might want to leave this page now! Otherwise, read on...
I must stress this is a review based on my first impressions (which aren't always right - like the first time I listened to Chorus I thought it was dull... what was I thinking?!).
UPDATE – I've now had the chance to listen to the album several times and you can now read my definitive The Violet Flame Review.
Dead Of Night
The album opens with a trance-like intro, which soon evolves into menacing synths and thumping beats. It's a lively way to open the album and has an immediate club/dance-floor feel. It's all very electro, with Andy's sultry vocals and lyrics about deceit and being haunted by the darkness. The chorus is the line of "D-D-D-D-Dead of night" repeating a few times (it sounds better than it reads, believe me!). It's a decent opening to the album and sets the tone for things to come: this is generally an up-tempo album.
Elevation
Given that this is the lead single from the album and is already available to stream and buy I probably don't need to say much about this track. What I will say though is if I were to rank each song on The Violet Flame in order of preference, I'd say Elevation would be in the bottom third. So if you love this song, you're in for a treat when you hear the whole album. If it's not really striking a chord with you, there is still plenty of other songs on the album for you to embrace.
Reason
The opening piano notes soon give way to a tub-thumbing beat which compliments a rich tapestry of joyous Vince-isms (is that a word?). There's a lot going on in the mix and I can't wait to listen again with headphones on. If you thought Elevation didn't sound "Vince enough" you'll be relishing this song, and its electronic spirals. It's a really catchy tune too, with uplifting lyrics and a really infectious bridge and chorus. Clubby and melodic (reminiscent of Cowboy in some ways), it's a definite single contender. And would make a great song to play whilst on a road trip! One of my favourite tracks.
"

You're the reason I live
The reason that I forgive

Reason

"
Promises
With pulsating synths and club-like bass this is another song that would feel at home on the dance-floor. As the song continues, more layers are added to the arrangement with more trademark Vince sounds becoming increasingly prevalent. It reminds me a little of Go Hard Or Go Home from Andy's recent solo album, iPop on which he collaborated with Shelter. The lyrics are lovelorn (Keep your promises / I just need somebody to be there) but it wasn't a song that particularly grabbed me. I think I need a few more listens...
Be The One
This is one heartfelt and beautiful song! The haunting opening is interspersed with the occasional brash electro sound, with a deep bass line joining the mix. Andy's vocals are long and drawn out and are unlike any other Erasure song I can think of. It's incredible that after all these years, the band can create something that sounds so fresh and different. This is the ballad of the album and although it's a slower track, you'll still find yourself tapping your feet along with the beat. The chorus doesn't soar but it is still infectious and the soft middle 8 is to die for. One of the attendees said it could a first dance song at a wedding and I completely agree. An instant classic!
Sacred
This track sees the return of Andy's falsetto in the ethereal introduction, which is complemented nicely with pulsating synths and trance-like notes. The track builds up nicely to an epic musical chorus. I say musical, because there aren't really any lyrics in the chorus (if that makes sense - think Make It Wonderful) other than some woahs and the word Sacred sung a couple of times. Again, this track has a club feel to it, and is perhaps a little generic musically, but Vince's twinkling progressing arrangement definitely has its charm.
Under The Wave
Another massive favourite for me this one, right from the 80s opening with plinky notes to the lush arrangement of various Andys woahing as the song concludes. Bouncy and whimsical, it has a Chorus b-side shimmer to it and it's not a million miles from Loving Man (although it is a far better song in my opinion). Andy's sweeping vocals are delivered in a delicious low register and whilst the lyrics have a very sombre edge to them the song feels sweet and bubbly. The military style drums in the chorus are great, as is the oh-oh-oh melody after the chorus (again, it sounds better than it looks!). Bitter-sweet and brilliant - another single contender, for sure.
"

I don't know what to do
I don't know what to say
I'm out of my depth
I'll go under again

Under The Wave

"
Smoke & Mirrors
The twisted synth opening and interesting, almost tribal percussion, allow Andy's tormented vocals to be unimpeded in the foreground. In the early stages, the arrangement is largely just a beat, giving the track a stripped raw feeling that wouldn't feel out of place on Loveboat. Melodically it sounds like nothing the band have done before and there are lots of sounds layered into the mix. More percussion is added as the song progresses with more musical layers being added to the mix also. It's not the most melodic of songs, with the lyrics telling a story of a relationship in crisis. There is an uplifting synth/flute line in the chorus that reminds me of When I Start To (Break It All Down) and no doubt there is plenty more where that came from to explore when listening with headphones on.
Paradise
No, not the b-side from Drama! - this is a new composition. Rhythmic synths and thumbing beats once again conjure visions of a nightclub dance-floor, with this track having a very strong disco feel to it. There are quirky trademark Vince sounds in the mix, including a creaking synth sound that reminds me of some early Depeche Mode tracks. This song lacks a killer vocal hook, although lyrically it is strong. Not a track that instantly grabbed me.
Stayed A Little Late Tonight
It is often tradition for an Erasure album to conclude with a slower ballad. Well, this isn't it! The retro synth opening gives way a nice mid-tempo track which uses an undertone of piano chords to allow story-telling lyrics of conflict, fear and self-blame to take centre stage. Andy's regret tinged vocals are enjoyable throughout, and the song progresses nicely but ends way too abruptly for my liking. I guess that's just because it leaves me wanting more!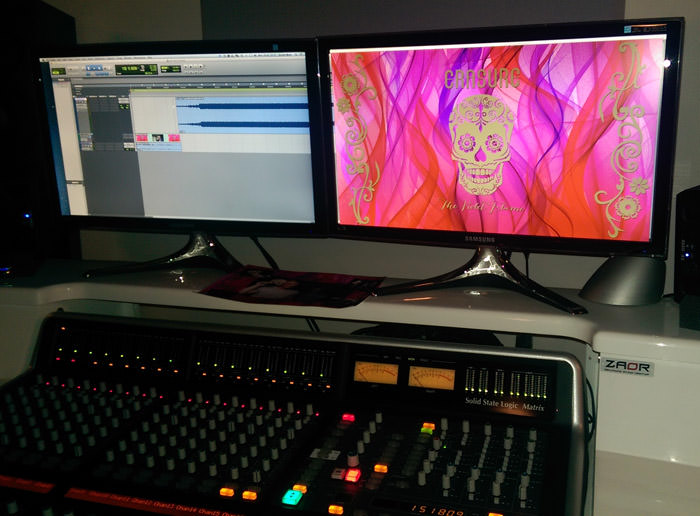 Overall, The Violet Flame is a strong album and is certainly the best the band has produced since Nightbird (at least). Many songs have thumping beats and killer bass, although that may just have come across from the loud speakers that were present at Studio Mute. The production is slick (but not at the expense of Vince's signature sounds) and the vocals are strong (full of reverb but no manipulation/effects that I could hear). I was particularly impressed with the lyrics and it feels like Andy has got his mojo back and that the standard is higher overall than on recent albums. Thematically, the lyrics are still dominated by love and relationships, but things click better than on some previous releases. Musically there is a tendency for songs to drop back to pads and a bass drum from time-to-time (I'd credit this influence to Richard X) but this helps give the album a consistent identity - both sound and quality. And much like I felt with Elevation, the album is a real grower and was getting more and more into my head with each listen. Frankly, I can't wait to hear it again!
The Playback Session itself was also a lot of fun, and each attendee was given some cool free Mute merchandise (including a CD promo of Elevation which has the somewhat elusive Radio Mix on it!). It was nice to mingle with other fans, especially the nice couple who flew over from Germany just for the session! Friendly, long-time Mute employees were happy to discuss all things Erasure and gave a fascinating insight into how things work in the industry (like how each single has a seven week lead time) and to see the studio equipment and gadgets. I did manage to learn that a second single has already been chosen (although I couldn't coax out what song had been chosen unfortunately!) and that a third single was a distinct possibility too.
So, do you have any questions about The Violet Flame? If so, leave them in the comments below and I'll try to answer them all the best I can!
UPDATE – my definitive The Violet Flame Review is now live. Here you can also read reviews made by other fans and whilst you're there why not write your own review to share with the world!