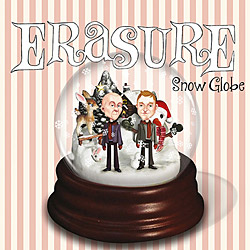 Hot on the heals of the announcement of the Snow Globe tracklisting, today it was announced that there will also be a limited edition box set of the album released, which comes with 3 CDs and a host of Christmas themed goodies. Exclusive to Lexer Music and available to buy via pre-order only, the box set contains the Snow Globe album, a CD of exclusive tracks (including 2013 re-workings of She Won't Be Home and God Rest Ye Merry Gentlemen) and a CD containing The Erasure Christmas Radio Show. It also includes items such as a festive tree bauble, desktop calendar, postcards, a Christmas card signed by Vince & Andy and more (to be announced in the coming days/weeks)! Further information can be found on the Erasure Snow Globe Microsite.
The box set will be released on 11th November 2013, along with the regular CD and digital versions of the album. The box set tracklisting is below:
CD1 - Snow Globe
Bells Of Love (Isabelle's Of Love)
Gaudete
Make It Wonderful
Sleep Quietly
Silent Night
Loving Man
The Christmas Song
Bleak Midwinter
Blood On The Snow
There'll Be No Tomorrow
Midnight Clear
White Christmas
Silver Bells
CD2 - Bonus Disk
Gaudete - A Cappella Version
Stop The Cavalry - Acoustic Version
Silent Night - Instrumental Version
She Won't Be Home - 2013 Redux
Make It Wonderful - Acoustic Version
God Rest Ye Merry Gentlemen - 2013 Redux
White Christmas - Instrumental Version
Yes Virginia, There Is A Santa Claus - Spoken Word Piece
CD3 - The Erasure Christmas Radio Show
Recorded Live Inside The Snow Globe
Don't forget - this is a limited edition release. If you want a copy, you'd better place a pre-order pronto!