Back in October 2013, Mrs Onge and I had the massive pleasure of interviewing Andy Bell. The transcript from our meeting is below.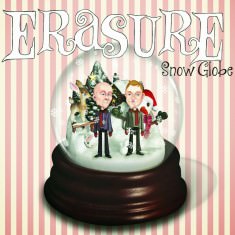 Let's talk about Snow Globe. How did it come about? I hear you've always wanted to do a Christmas album - did you finally decide now was the time?
It was sort of decided by the record company [Mute]. I started working on my next the solo album, which is not finished yet, and Vince is doing a solo project as well and they said we really should get another Erasure record out before the others come out. We thought that a happy compromise, rather than having to write fresh for 10 whole new songs, would be we would write half of those. So we just kind of met up in February and April time and we were really surprised by how the songs just came out. We had some really good ones and thought this is good. We chose the cover versions of Christmas songs and it just seemed really easy - it was just so easy! Usually when you're doing an album you are pouring over stuff and it seems to take forever. This one was done in about 12 weeks.
Where you and Vince together for the whole time?
No, not the whole time. We did the writing together, then Vince did the music and I did the vocals at the Strong Room, here with Gareth [Jones]. Then we literally met for a day where we had photos and then the same day we went to the studio to meet the guy that was doing the mixing for us [Richard X] and Vince stayed on for a week. I had to go back 'cause I had some things going on.
So was it easy to pick the songs you wanted to cover?
It was relatively easy, 'cause we had Michael Pagnotta [Erasure's manager] choosing the songs as well. Vince chose some of his favourite ones and I chose the ones that I wanted to do and it just seemed to work out. I can't even remember how we picked them to be honest!
Can you remember if there were any that you had picked and when you came to record them they just didn't work?
No, not at all. They all worked. I said to Vince about doing Once In Royal David's City, 'cause I did it when I was a kid, but he just said no, it's too boring a song! So we didn't do it.
Who picked the name of the album? Was it a collaborative effort or was it the label?
I chose the name.
"

We chose the cover versions of Christmas songs and it just seemed really easy - it was just so easy! Usually when you're doing an album you are pouring over stuff and it seems to take forever.

"
How much input did you and Vince have on the design of the sleeve?
We didn't really have much input. We thought it would be good to have the snow globe anyway with me and Vince inside and they came up with the stripy paper which I thought was really good. And they might have a brown paper bag for the inner sleeve for the box set but I haven't seen that yet.
Like a present?
Yeah. The only thing that I did in the beginning was said to Paul Taylor, who did the artwork, to have a look at some photos of the Northern Lights and to put the Northern Lights in the artwork. But they have nothing like that on there.
So he ignored you!
Yeah! I think it'll be on the video.
For the first single?
Yeah. Two tracks they are doing videos for.
And they might be?
Those songs are Gaudete and Make it Wonderful.
You alluded to this a bit earlier; your next solo album. I seem to remember it was originally planned to be released last summer but it got delayed because of the Snow Globe project.
I still don't know when it's going to come out.
You said it's not quite finished. How much more is there to do?
We probably need to do about 3 more songs.
How does it sound? Electric Blue was quite eclectic and Non-Stop was one for the dancefloors.
It sounds less electro and more clubby 'cause I'm working with Dave Audé and he has a Euro/Ibiza sort of style.
So more like Non-Stop than Electric Blue but still new?
Yeah, suppose so. But more tuneful than Non-Stop. Non-Stop wasn't very tuneful!
Is it influenced on where you're living now? Does that have an input?
Not really. It was mostly influenced by Dave's music as he's remixing constantly for people and he's got tracks going all the time. So literally when I went round to his house, he would just play me songs that he'd been working on and say "do you like this one", "do you like that one", "oh yeah I love that one" and then we'd just create two tracks from scratch from just being together and from listening to music.
Is it looking like it'll be released next summer perhaps?
To be honest, I really don't know. Hopefully summertime, 'cause there are so many other things going on. We're supposed to be doing another Erasure one as well.
Another Album! Excellent!
Yeah. I don't know when it's coming out though.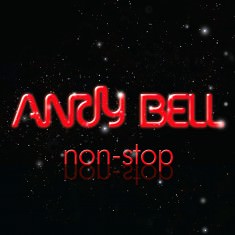 With Non-Stop you released some songs under the pseudonym of MiMó and they got played on Radio 1. Do you think you proved a point there? Or was that not really the objective?
No not really 'cause they didn't carry on playing it! If they'd have carried on then it would have been fine but I mean, it happens to everyone so it's not like it's the first time it's ever happened. Also the experiment kinda fell apart 'cause there was another guy with the same name. Some guy claimed the name, he was a DJ, and it got a bit legal. So that was the point it was switched off.
So there's the potential album next year and Carfest, are there any other live plans?
They do want us to do an Erasure tour but it depends on us and if we are ready really. And if we can do it - it's not just down to me. Vince says I'm the boss but he has to be really as his mind isn't always ready to do it as he gets so nervous. He hates it. He really hates touring! Last time we had so many things going on in the background with our personal lives it kinda took over so that the last tour really wiped us out. It sounds really dramatic but we were exhausted by the end.
There's a lot a places; a lot of travelling around.
Yeah. We would like to tour. It just depends on the places and routine.
Do you have any favourite places to perform?
Not really. I do like playing South America and particular places in America like Chicago, San Francisco. New York is always really good, so is LA. Russia was really good as well, I loved it last time. I don't really know what's going to happen next time but...
So have you got any plans for any outrageous costumes for the future?
I haven't no. I've only been wearing my very tight sparkly leggings and high heeled shoes in America, and they've gone down very well which I quite like. I like the cloned drag. I'm on a keep fit thing at the moment, so hopefully I might be a bit of a muscle Mary next time you see me.
There was talk around the Nightbird era many years ago about a nursery rhymes inspired album. What happened with that?
It's still there. It's been written as well. I know Vince has done quite a lot of music for it but they've just been waiting for me to do it! It's one of those things that needs to be done when you've not been doing anything for a while.
Do you think it'll be an album or an EP?
I don't know to be honest. It needs to be something more than just nursery rhymes so it'll have to go with a film or something. It's just not enough on its own.
"

[On the nursery rhymes inspired album concept] It's still there. It's been written as well. I know Vince has done quite a lot of music for it but they've just been waiting for me to do it!

"
Congratulation on getting married to Steve earlier in the year. How's married life treating you?
Its fine, thank you. It works really well when you're apart! (laughs) It's nice for me as I've been setting up the flat here and everything is still half in boxes and Steve is a real sweetheart and I don't have to do anything when I'm there really. We eat out a lot and our baby's there, Angel [their dog]. We've got a girl, who lives with us, who looks after him when I'm away. I'm waiting for the day when all the family can be together, here or in London.
I recently finished reading Paul Hickey's book [Andy's late former boyfriend and ex-Erasure manager]. Do you have any plans to ever write an autobiography of your own at some point?
I haven't no, not yet. It has been at the back of my mind but I think because Paul did his, he wrote about so much that I think mine would have to be completely different. So it would have to be about my childhood and stuff like that and I don't really feel ready really. And I think you have to be really popular as well!
You are!
Well...
We'd buy it! I've noticed you've been engaging more on Twitter recently. How are you finding it? Do you enjoy it?
I really like it. I love it, especially when I'm bored! I love going on there. I have to be careful, if I get drunk anytime and then go on there and start ranting and raving about stuff! (laughs)
So do you enjoy engaging with fans online or can they be a bit annoying?
Yeah, I honestly really don't mind. Sometimes things get too personal, you know. I don't mind - I think I'm very affable. I'm my own worst enemy, 'cause they'll say to me where do you live and I'll tell them so they can send me things and the next minute they are outside the door, so you do have to be a bit careful. I think most of our fans are sensible, 'cause they care about us. We don't get many crazy people. So many people are.
It might be a generational thing as well.
Yeah, and you grow up, I think that's what it is.
A bit of a cheesy way to end, but do you have a Christmas message for the fans or anything like that?
Ummm, well, I just can't believe that all the people have stuck by us, like the really hard-core fans after all this time 'cause we don't get that much exposure really. I get stopped quite at lot on the streets and stuff with people asking "are you still making music" and "what are you doing" and things like that so I just feel like so grateful that the fans actually provide us with an income that we can just still do our job. Do you know what I mean? It just really blows me away.
Massive thank you to Andy for his time and to Richard at the EIS for making this all possible!